Ramadan and Eid: Remembering the less fortunate and being thankful – our Village has mobilized and we want to thank them!
Ramadan
Ramadan is a holy month for Muslims. This month occurs on the ninth month of the lunar-based Islamic calendar. This year, Ramadan started on April 12 and ended with the Eid celebration on May 12 or 13, 2021, depending on location.
During Ramadan, Muslims are required to abstain from food and drink from dawn to dusk for 30 days. The act of fasting is meant to remind Muslims of the less fortunate and to reinforce the need to be thankful. As one of the five pillars, or duties, of Islam, fasting during the month of Ramadan is mandatory for all healthy adult Muslims. Children who have not reached puberty, the elderly, those who are physically or mentally incapable of fasting, pregnant women, breastfeeding mothers, and travelers are exempt.
During the month of Ramadan, Muslims eat a pre-fast meal known as suhur. This meal often resembles breakfast, but in some cultures, it may include more dinner-like foods. After sundown, Muslims end their fast with iftar, a meal which usually starts with dates and water or milk, followed by dinner.
Eid
After Ramadan, Muslims celebrate a three-day holiday called Eid-al-Fitr. Of course, in almost all Western countries, Muslim workers and children might get only one day off work and school for this celebration. In western terms, Eid is somewhat equivalent to Christmas. Just like at Christmas, at Eid, Muslim children eagerly look forward to new outfits, gifts, and the feast – especially, the desserts and sweets. Eid celebrations typically include a prayer with a congregation in the morning, visits with family and friends, paying respects to the deceased by visiting their gravesites and praying, and of course loads of special foods—one typically gains weight just like at Thanksgiving! (Of course, this year, because of COVID-19, some adjustments had to be made on the in-person socializing.)
This is how those of us who are fortunate, get to observe Ramadan and celebrate Eid. Sadly, there are many Muslims for whom this is not the case.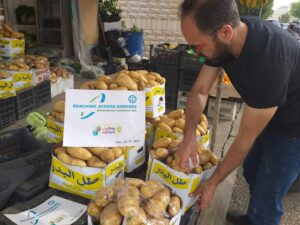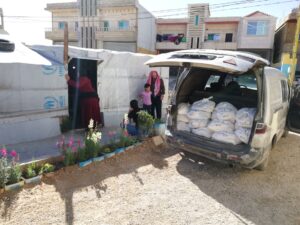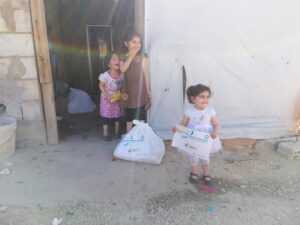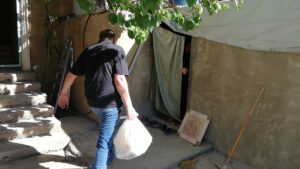 Take Lebanon for instance…
Lebanon has been hit by multiple compounding crises, such as: the coronavirus (COVID-19) pandemic; the widespread protests in October 2019 for urgent political and economic reform; the massive Beirut port explosion in August 2020; and the devaluing of the Lebanese Lira by 80%. All these factors have contributed to further destabilizing the country and have plunged more people into economic hardship and increased emotional trauma.
According to the United Nations High Commissioner for Refugees (UNHCR), even before these recent crises, about 30% of the people in Lebanon were living under the national poverty line of less than $3.84 per day. Today, more than 70% of the displaced Syrian households live under the national poverty line, with 55% living below the "Survival Minimum Expenditure Basket" of less than $2.9 per day. Only 38% of displaced Syrians participate in the working force, because of the inability to find work, and only 7% of displaced Syrian woman have access to work. The socio-economic vulnerabilities have increased child labor and violence against women and children, both Syrian and Lebanese.
Because of the kindness of people…
… who know about our work, Reaching Across Borders (RAB) was able to make a small difference in the lives of a few Muslim Syrian refugees living in the Bekaa Valley, in Lebanon. Without even putting out a call, we received Zakat donations from three people. Zakat is one of the five pillars of Islam. It is a form of almsgiving and is the duty for all Muslims who meet the necessary criteria of wealth to help the needy.
With the Zakat donations that we received, we were able to reach 45 Syrian refugee families living in the Bekaa, with food parcels – they were able to feed their families for the last three days of Ramadan and on Eid day.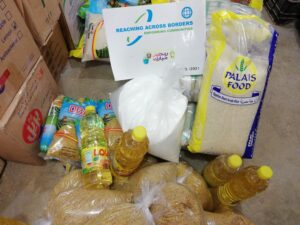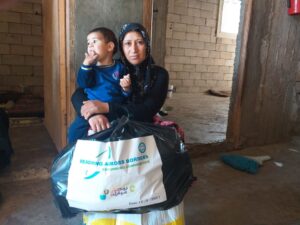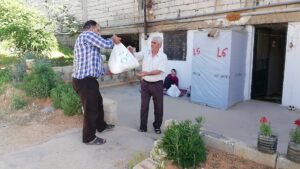 Our Village

We feel very blessed to have a wonderful Village that made execution a breeze. First, I must reiterate that once again, our community-based approach, is and will always be our True North, because even when trying to do the right thing, we sometimes make mistakes. That is why it is always good to get input from and involve the communities we serve. This is one of RAB's key principles, and I am glad that we upheld this principle during this relief effort, because when I informed the team about these funds and I shortsightedly said that we should prepare the food parcels and distribute them on Eid day.
The team (shocked) said to me, "why would we wait until Eid day, if we have funds to provide food today, we should provide the food today, there is no reason to wait, people are hungry today!?" I had an Aha moment and embarrassingly admitted that I was being myopic.
It takes a Village…
… to make this relief effort possible, we would like to thank several people. Of course, our three donors, without whose contribution none of this would have been possible.
We want to take a moment to share what our Village did. Nobody in our Village wanted us to reveal their identities, so we are honoring their request, but this is how we did it:
First, a young lady, helped two of our donors with their wire transfers.
Two Syrian refugees helped us to efficiently transfer the funds to our team on the ground.
Even before receiving the funds, our ground team (who all volunteered for this effort and are all Syrian refugees themselves) got to work. They identified the families in need, prepared a list of the basic food necessities and went to our local grocer to procure the goods.
They prepared the food parcels and distributed them all in a 24-hour period.
They requested and got permission from the recipients to take photos and videos and to share them.
We strongly believe in providing services and discussing peoples' suffering respectfully and in a dignified way. We are sharing this with you because; our recipients would like the world to bear witness to humanities failures toward them; and because we would like you, our donors, and the world community to see and feel confident about how a small gesture on your part can make a huge difference in someone's life. For all of us, who are more fortunate to realize that for the price of a fancy coffee we could feed a family of six for 3 days.
"It takes a village to raise a child" is an African proverb that means that an entire community of people must interact with children for those children to experience and grow in a safe and healthy environment.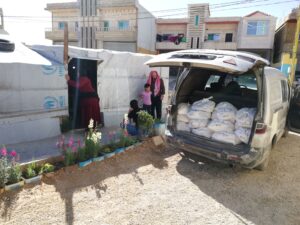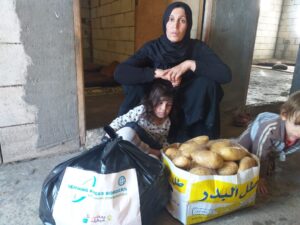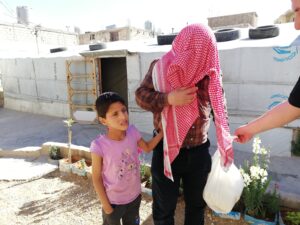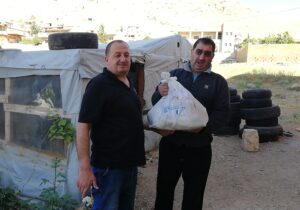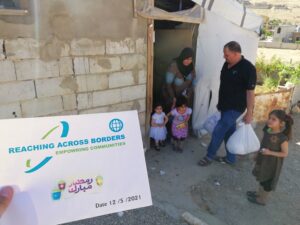 To our Village:

Our Donors: Thank you for trusting us to fulfill your wishes.

Our Community in the Bekaa

: Ubuntu – Ubuntu means "I am because you are". The complete phrase in Zulu is "Umuntu ngumuntu ngabantu", which literally means that a person is a person through other people. Ubuntu is that nebulous concept of common humanity, oneness: humanity, you and me both.

Our Volunteers

: يعطيكم العافية – Yatikum elaafiye – May God give you strength.
To our readers:
Thank you for your encouragement and your great comments on our last post. Please go to our Contact page where you can send us your email address, so that we can add you to our email list.
— Raiza, Reaching Across Borders (RAB)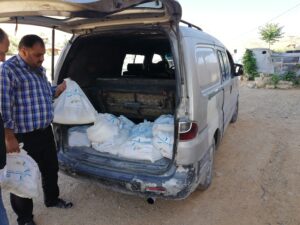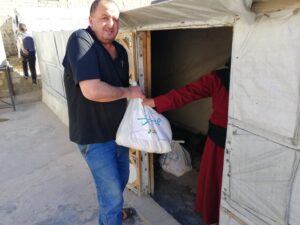 PS> And here are a couple of short video clips of our Eid 2021 food distribution…