Celebrating Eid al-Fitr, May 2022.
We respond by listening to the ACTUAL NEEDS OF THE PEOPLE WE SERVE …

Putting a Smile on Little Faces – We were able to make it special for some families.
Every family who celebrates Eid al-Fitr looks forward to making it a special occasion for their children by giving them presents and preparing the best feast possible.
Sadly, some families are unable to do this because of their circumstances. The needs are much larger than any one person or organization can meet, but collectively with the help of generous donors like you; we were able to make a difference for a few families of Syrian Refugee women-headed households in the Bekaa Valley, Lebanon. Many Syrian women have been widowed because of the war in Syria, which is now in its 11th year, while others have been left to fend for themselves, because their husbands have "disappeared" for years now, and these families do not know if they are still alive or have passed on.
For Eid al-Fitr, in May 2022, instead of handing out food relief packages, we gave families $50 each so that they could spend it based on their needs. Our reasons for doing this are from the feedback that we received from our community whom we serve. We were told families need money to pay for:
Internet, which is their only lifeline to their shattered social support network;
Baby formula, diapers (now the additional hardship is that there is a shortage of water in all the camps, washing diapers has become even more challenging), feminine hygiene products, etc.;
Vegetables, it appears that well-meaning organizations like ours have been providing relief packages consisting of dry and canned food products, but many families have not been able to afford to buy fresh vegetables or fruits for a very long time now.
This list of need is long, every parent out there can relate. Children need more than dry goods for survival.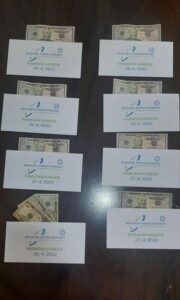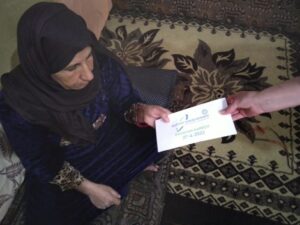 Most of all…
we gave families cash instead of food packages, because we respect them. We want to give them the right to make their own choices for their families. We want to treat them with dignity.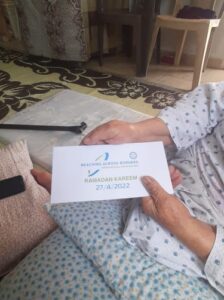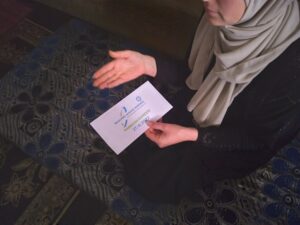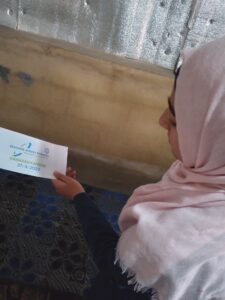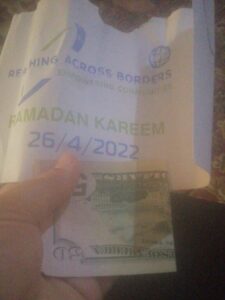 Eid Mubarak!
Also,
This time we specifically supported a young, 21-year old Syrian refugee mother who has two children, ages 2 and 4. She is alone in a town in Turkey, where there are not many Syrians. To protect her identity and dignity, we are calling her "Fatima."
Fatima's Reality:
Fatima is originally from Damascus. Before the war her life was good, she aspired to become a schoolteacher. The war in Syria broke out. One day her father left the house and did not come back. Since then, they have no idea whether he is still alive or not. The situation in Syria became very difficult for her family, and they (she, her mother, brother, and a sister) sought refuge in Lebanon.
In Lebanon, she met her husband and they got married. Fatima said, "I thought [that] he will protect me from the hardships of life. We did not have a lot of money, so we lived in the camp, and we had two kids, a boy and a girl. The situation in the camp is so hard! I am so worried about the future of my kids. There is nothing for them in the camp! No schools, no hospitals! No one asks about you. What did you eat? What did you wear? Is it cold or hot? Nobody cares!"
Subsequently, her husband sold everything they had to obtain a visa for himself to travel to Turkey. He left Fatima and her children in Lebanon to fend for themselves. Fatima understood that once he is settled in Turkey, he would send for her and the children.
After several months, when she was unable to reach her husband, and she had no money, Fatima decided that she would go to Turkey illegally with her children to find him. The journey was hard, she spent two months waiting at the Turkish border, and finally entered Turkey with just the clothes on her back, only to learn that her husband went to see his mother back in Syria and has now disappeared. Fatima is unable to find out any information about her husband.
In Turkey she has applied for residency for herself and her children. She will only have her residency interview in November 2022. Until then, she is unable to get any kind of support from the UNHCR or local charities. She has been homeless, living on the streets, with her children. Sometimes, some Syrians (who themselves are in difficult circumstances) have assisted her. When her children got sick, which they did during the cold winter in Turkey, she was not able to take them to a clinic because she does not have legal papers.
Because of the generosity of some other international NGO, and with the informal help of a local NGO, they have been able to rent a small place for Fatima and her children, and have paid up the rent through October 2022. But, of course, she needs some money for basic needs, food and to pay her electric and internet bills (which is her only way of keeping in touch with her social support network).
RAB, through the help of a generous donor have been able to cover Fatima's costs for the next three months.
We are all praying that Fatima gets her residency papers in November 2022, and she can then do some baby-sitting, cooking, and engaging with local NGOs who will be able to help her financially, with relief packages and with vocational training.
Until then, Fatima needs an additional $300 to get her through to November 2022. If you wish to contribute to help Fatima, please go to our website and when you make your donation, add a note, specifying "Fatima."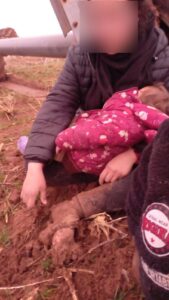 When Fatima waited at the border with her children…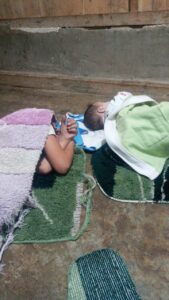 When she first moved into her little 1-room apartment…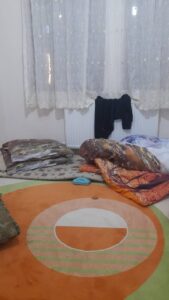 Kind neighbors gave her blankets, a mattress, a carpet, and a curtain.
or you can contact us by sending email to Raiza@ReachingAcrossBorders.org;
or by WhatsApp: +1.202.262.5346, to make a donation.
Every dollar, every Euro, every Rand, every Pound, every donation makes a difference.

Please donate whatever you are able.