Not even a loaf of bread for supper…
Lebanon's economy has been in a free-fall since August 2020, when they had the awful Beirut port blast leaving families in the direct epicenter of the blast devastated by the loss of life, home, and business and security. This was only the beginning, the aftermath of the port blast reverberated throughout the country and was compounded by political instability, economic and financial crisis, and, of course, the COVID-19 pandemic.
Two years ago, you would get LBP 1,507 Lebanese Liras (Pounds) for $1 US. The Lebanese Lira was/is officially pegged to the US dollar at this rate. Today, however, not many people exchange currency at the official rate because, in the open market USD 1 can be exchanged for LBP 20,000, or on a good day, even LBP 29,000 Lebanese Liras. Yes, less than USD 50 would make you a millionaire! Sounds great… until you factor in inflation and actual wages. Most people's salaries have been cut in half and unemployment sits at 40%. The numbers for Syrian refugees who make up one quarter of the population in Lebanon is even higher since they cannot legally participate in most jobs, except the agricultural and construction industries.
The World Food Program (WFP) estimates that, because of the ongoing economic crisis, over 1.3 million Lebanese citizens, about 36% of the total population, were food insecure by the end of September 2021. The number of Lebanese households with serious food access constraints reached 57% in September 2021, up from 40% in September 2020. Of the 1.5 million Syrian refugees in Lebanon, nearly half, about 735,000, were food insecure in September 2021. In addition, 88% of the Syrian refugees in the country were dependent on humanitarian assistance as they were not able to afford the absolute minimum amount required to cover life‑saving needs.
As much as RAB is focused on providing mental health services, it is very difficult to reach people when their primary concern is abject poverty and concerns about being able to afford a to put a loaf of bread on the supper table.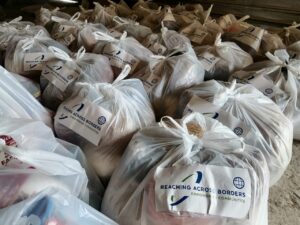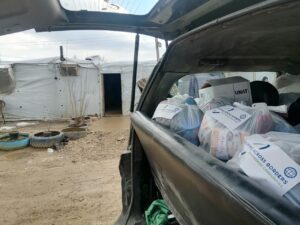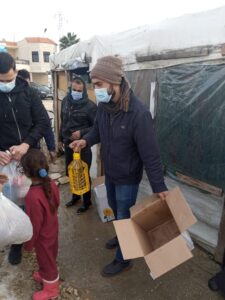 End of January, beginning of February 2022, after a severe Winter storm brought icy temperatures and heavy snowfall to the Bekaa Valley…

see, e.g., https://www.unhcr.org/en-us/news/stories/2022/1/61e6a6484/crisis-hit-families-struggle-winter-arrives-lebanon.html, …
we were fortunate that some of our Board members and Advisors raised money for us to provide food relief packages. While the need is great, as a small organization, we are not able to do huge relief drives. However, we were able to provide 104 families with food packages that provided food for them for 2 weeks. This is not huge, but for those 104 families, these food packages (containing: ) were the most precious gifts they could receive at this difficult time of their lives. It made a difference between putting a loaf of bread on the table for supper or going to bed hunger.
Each food package contained: rice, tea, beans, chickpeas, sugar, lentils, flower, zataa, tomato paste, and halawa. But note: no fish, meat, or chicken, because today these are considered luxuries.
Once again, reminding all of us that, giving is not about "making a donation," it is about making a difference
$35 feeds a family for 2 weeks… that is the price of 7 Grande Cappuccinos.
Please consider skipping some cappuccinos to make a difference, we promise you, you will feel great!
Please visit our website, ReachingAcrossBorders.org, and follow us on Twitter or Facebook, to see what we do …, and to donate: We can only serve because of your generous donations. Please go to our Contact page where you can send us your email address, so that we can add you to our email list.
Thank you,
–The RAB Team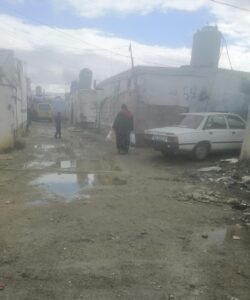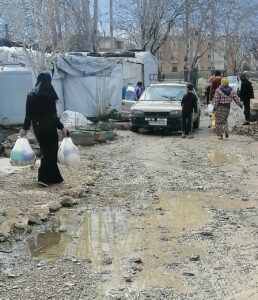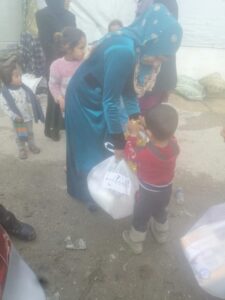 Our food parcels: Rice, tea, beans, chickpeas, sugar, lentils, flower, zataa, tomato paste, and halawa…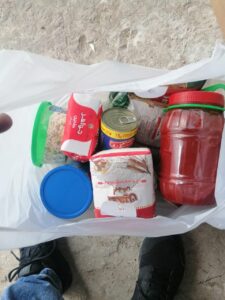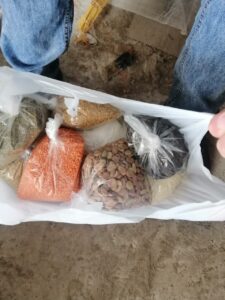 And here is a short video showing how the camps looked like in February 2022, during one of the snow storms…